"Behold, I am making all things new."
– Jesus, Revelation 21:5
Upcoming Events

Christ Church is a social congregation – when we're not dealing with a global pandemic, we like to eat and play as well as pray together. Our 'togetherness" has increased online, though – Sign up here to receive our weekly E-news.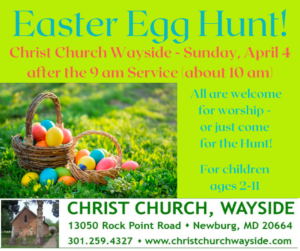 Easter Egg Hunt at Christ Church Wayside, Easter morning (April 4)
All are welcome to join the two Christ Churches for an Easter Egg Hunt at Christ Church Wayside (13050 Rock Point Road – Rt. 257 – Newburg), immediately following the outdoor Easter Eucharist there at 9 am. (Estimated Hunt time: 10 am)  Invite friends and neighbors! Download the flyer Easter Egg Hunt!: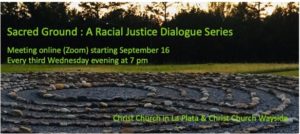 Sacred Ground: A Racial Justice Dialogues Series starts Wednesday, September 16 at pm, online
The Christ Churches will host an online Sacred Ground Dialogue Circle. Sacred Ground is a 10-session program developed by the Episcopal Church "that creates space for difficult but respectful and transformative dialogue on race and racism." The curriculum includes short films and videos and readings, as well as facilitated discussion. It moves toward the "vision of beloved community – where all people are honored and protected and nurtured as beloved children of God, where we weep at one another's pain and seek one another's flourishing." Register here if you will be part of this circle. A link to the gathering will be sent.
Emerging Initiatives
News Stories