"…I was hungry and you gave me food, I was thirsty and you gave me something to drink,
I was a stranger and you welcomed me, I was naked and you gave me clothing, I was sick
and you took care of me, I was in prison and you visited me."
– Jesus in Matthew 25:36-37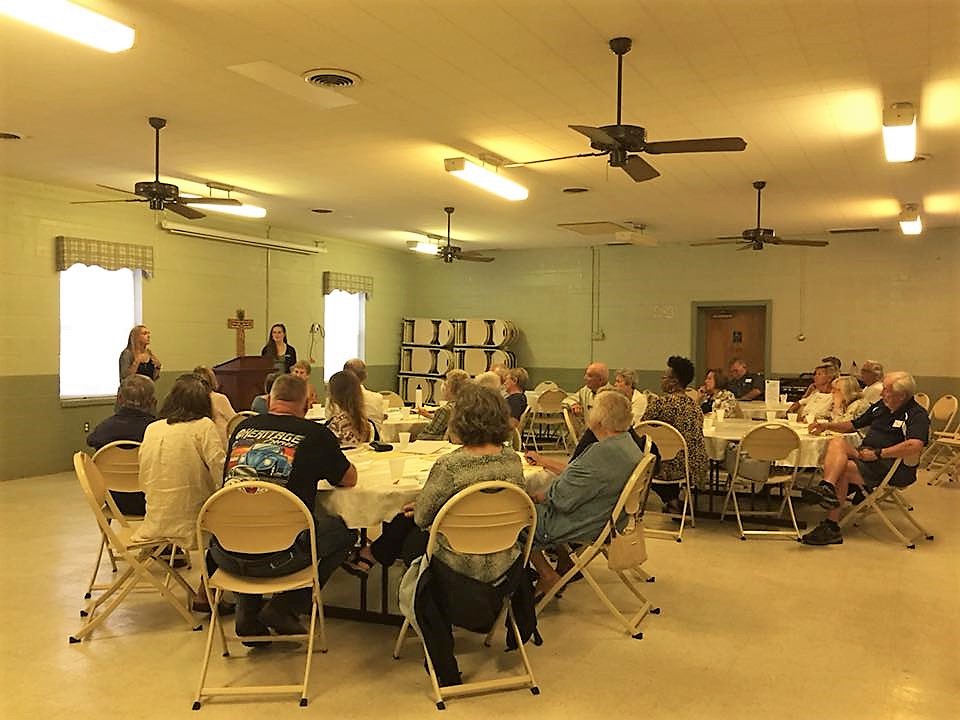 Christ Church seeks to be a strategic partner with local non-profits, government and faith communities in addressing needs and challenges in the community and in the world.
In the last decade, the congregation has initiated an on-going weekly reading tutoring program at Higdon Elementary School, implemented the Meals on Wheels program on the Cobb Neck peninsula, and, in 2004 along with the other Cobb Neck churches, founded the Wayside Food Bank. Christ Church Wayside also supports a wide range of local, national and international hunger and poverty ministries such as Health Partners Incorporated and Episcopal Relief and Development. Here are ways you can get involved: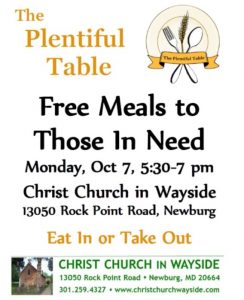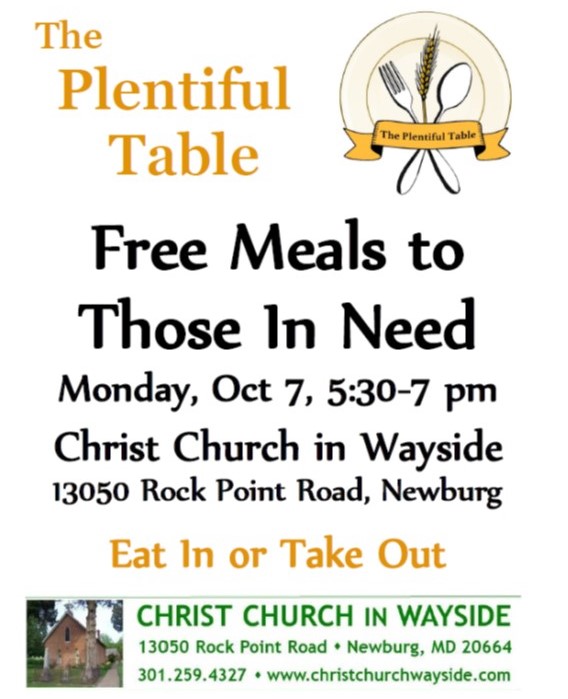 The Plentiful Table – Free Meals to Those in Need – on the first Monday of each month, from 5:30 – 7 pm, we serve a hot meal to anyone in need, eat in or take home. Our first offering is Monday, May 6th. Contact Elizabeth Vinson if you would like to help.
Download this month's flyer Flyer-Plentiful Table.
Reading Tutors – On Tuesday mornings, volunteers tutor students at Higdon Elementary School in reading.
Wayside Food Bank – Donate food, stock shelves, and help clients when Food Bank is open.
Community Dinners – Christ Church is known for festive dinners – this year our first OctoberFest (Flyer-OctoberFest), and Veterans Day spaghetti dinner, as well as carry-our dinners held during the summer.
Financial Support – Christ Church supports a number of organizations and ministries, including:
Charlotte Hall Veterans' Home
Christmas gifts for members of the Armed Forces serving overseas
the Christmas Connection
Episcopal Relief and Development
Friends of the Diocese of Jerusalem
Health Partners
Heifer Project International
Lifestyles of Maryland
Thanksgiving and Christmas baskets for families of children at Higdon Elementary School
Our Pastor, Kate Heichler helped launch and sustains the Nambale Magnet School for children orphaned by AIDS in Kenya.
Other – What's your passion? Who do you want to reach out to? Let us know, and see if we can support you.
Outreach Projects of Individual Members of the Community
Many of our members are involved in outreach projects as individuals. All are invited to share this work with the community.